Here are a few of our favorite Big Ideas + Other Cool Stuff from Week 2 of Ed and Deb Shapiro's 4-week course Meditation Is Not What You Think.
Already enrolled? Download the class here.
Not enrolled yet? What're you waiting for? Learn more/sign up here! :)
The Context
Ed and Deb Shapiro have been teaching meditation and relaxation together for over 25 years, both internationally and with corporations. They are the authors of the award-winning book, Be The Change, How Meditation Can Transform You and the World, with forewords by the Dalai Lama and Prof. Robert Thurman.

They are featured bloggers for the HuffingtonPost.com, Oprah.com, and VivIdLife.me, and host their weekly radio show, Going Out Of Your Mind. Ed grew up in New York City, trained as a yoga master in India, and is sought after for his compassionate understanding of the human condition. Deb grew up in London. She is highly respected for her intuitive understanding of the bodymind relationship and is the author of the international bestseller, Your Body Speaks Your Mind.
Here are some of our favorite Big Ideas from Week 2!
Big Idea #1: Meditation is Not Easy
We see pictures of healthy looking people dressed in white blissing out on meditation and think that it must be easy and super pleasurable. But meditation can sometimes be very hard.
The monkey-mind doesn't really want to quiet itself. It wants to run around and distract you from stopping and slowing down using any means at its disposal. It will tell you that you're too busy to waste time meditating. It will tell you to meditate later. The entire world will be a magnet that pulls your mind away from your breath.
When this happens, we have to show resolve. We have to say, "I'm going to stay and sit. I'm going to meditate."
Despite our mind's constant attempts to distract us, we have to remain friends with ourselves. This friendship will be the longest relationship we ever have with anyone.
As we continue making friends with our mind, we will still face challenges. It's not like all the problems will go away and everything will be hunky-dory. What will happen is that we'll be able to witness the problem but the problem won't stick to us. Our minds will be like Teflon.
Developing the meditative mind-state also doesn't mean that we'll become unemotional zombies. We'll still have all of our emotions; we just won't identify the emotions as US.
Big Idea #2: Being With What Is
We all want to enjoy life to the max. We love pleasure and we hate pain. But the real richness of life lies not in grasping after pleasure and pushing away the pain, but in being with what is.
We can develop a curiosity about everything that comes up. Even if we feel sad, we can think, "How fascinating, there is sadness in my mind." We don't resist, we don't try to make it different. Wanting everything to be different is what causes us grief in the first place.
When we witness the joy and the pain of life as they come up, the emotions don't get stuck. They move through us and make space for something new.
Ed told a story about the Karmapa, a high figure in Tibetan Buddhism, like the Dalai Lama. The Karmapa had cancer and was being treated in Chicago. All of the doctors and nurses were astounded by his warm presence, and the way that he was taking care of them, even though he was the sick one. Such strength and spaciousness is the result of meditation practice.
Big Idea #3: The Monkey Mind
The monkey mind never really goes away. What does happen eventually though, is it becomes our pet. We don't give the words of that whacky monkey any power. When you hear it chattering away especially loudly in your mind, you can label it "MONKEY", and return to your breath.
Of course, working with our monkeys requires more than just time spent on the cushion. We need to work with them throughout the day, returning to our breath over and over and over.
So, just as with difficult emotions, we let go of the desire for the monkey to go away. We accept it fully, and that acceptance is what creates transformation.
Other Cool Stuff:
Check out Ed and Deb's amazing book, Be The Change.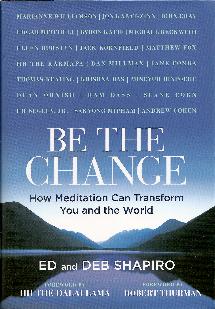 And also, be sure to take a look at Deb's bestselling Your Body Speaks Your Mind!
Learn more about Ed and Deb's work at their awesome site:
We hoped you enjoyed, and see you in week 3!